Lead your Superlife: Healthy, Happy, Confident
Blog
12 Days of Quinoa Christmas Recipes
Here are 12 Quinoa Recipes inspired by "The Twelve Days of Christmas" song!
Ft. Some of our favourite Quinoa recipes this Holiday Season.
All of these recipes are low in calories, high in protein, high in fibre and overall delicious and good for you!
Day 1 – Quinoa, Pear and Blue Cheese Salad
On the first day of Christmas, my true love gave me a Partridge in a Pear Tree.
Pears! We sure do love a good pear. Eating it fresh is fantastic, but pears are also delicious as a fresh, crisp ingredient in a savoury salad. It cuts the oiliness of dressings and gives boring salads a nice brightness! This low calorie, gluten-free AND easy to make salad recipe brings a sense of Christmas nostalgia with classic ingredients like dried cranberries and walnuts. Makes you think of cosy countryside lodges in the middle of a white snowy winter 😉
Superlife Co. Original Recipe – Get the Recipe here.
Day 2 – Breakfast Quinoa, Oatmeal and Carrot Cookies
On the second day of Christmas, my true love gave me Two Turtle Doves.
But it seems highly inappropriate to eat birds that symbolize purity and peace, so if it was up to us, we'd rather have our true love give us some Breakfast in Bed on the second day of Christmas. These Breakfast Quinoa, Oatmeal and Carrot Cookies by Love & Lemons sound and look like a hoot!
Day 3 – Easy Oven Baked Chicken & Quinoa with Pumpkin
On the third day of Christmas, my true love gave me Three French Hens.
We don't have french hens, nonetheless three of them. BUT, we sure do like chicken! Especially when it's marinaded with French provençale herbs 😉 This homey recipe requires only the simplest ingredients, but it gives maximum flavour. Preparation and cooking time is fast, so you can focus more on entertaining your guests this Holiday Season!
Superlife Co. Original Recipe – Get the Recipe here.
Day 4 – Roasted Chicken Breast stuffed with Quinoa, Spinach, Feta & Walnuts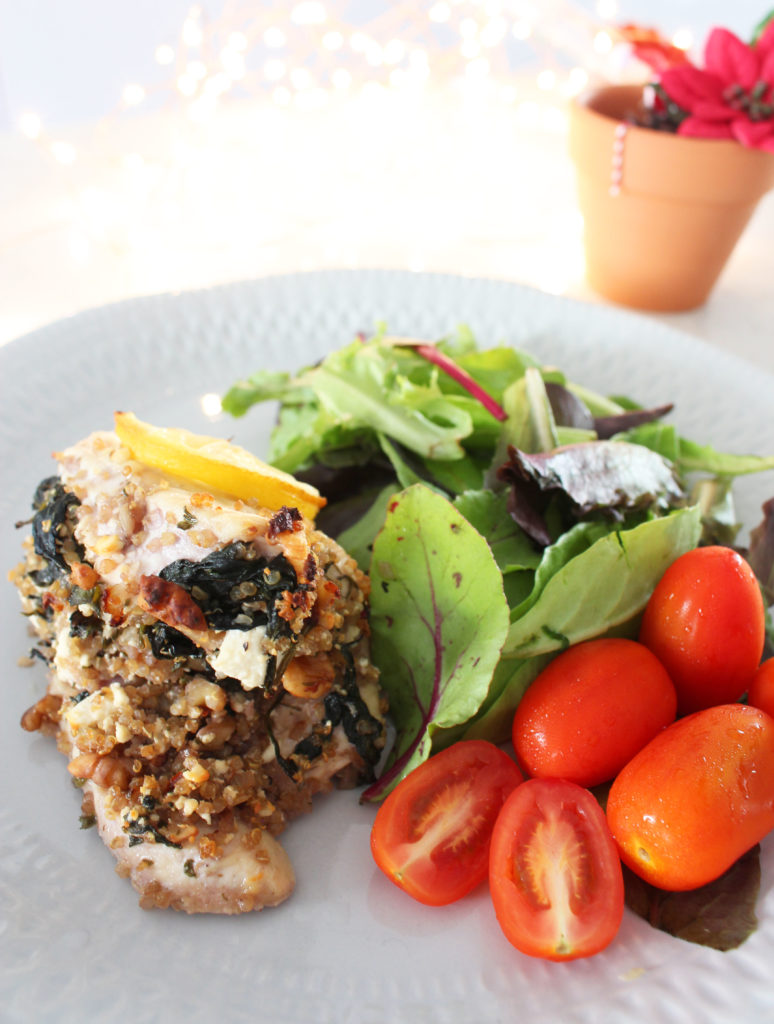 On the fourth day of Christmas, my true love gave me Four Calling Birds.
Lyrics about birds call for YET ANOTHER CHICKEN RECIPE! This is one of our team's personal favourites. It is vibrant and full of flavour. Salty from the feta cheese, tangy from the lemons and filling from the quinoa. This is the perfect, easy to make savoury dish 🙂
Superlife Co. Original Recipe – Get the Recipe here.
Day 5 – Quinoa Cake Donuts
On the fifth day of Christmas, my true love gave me Five Golden Rings.
When you think of golden rings, what do you think of?
DONUTS!
Obviously.
We love sweet treats just as much as our savoury ones, and these beautiful little Quinoa Donut Cakes by The Fitchen are the perfect little snacks to share with your loved ones this Christmas. It has hints of cinnamon and nutmeg in the batter, which goes wonderfully with traditional festive season flavours!
Day 6 – Mini Zucchini Quinoa Frittata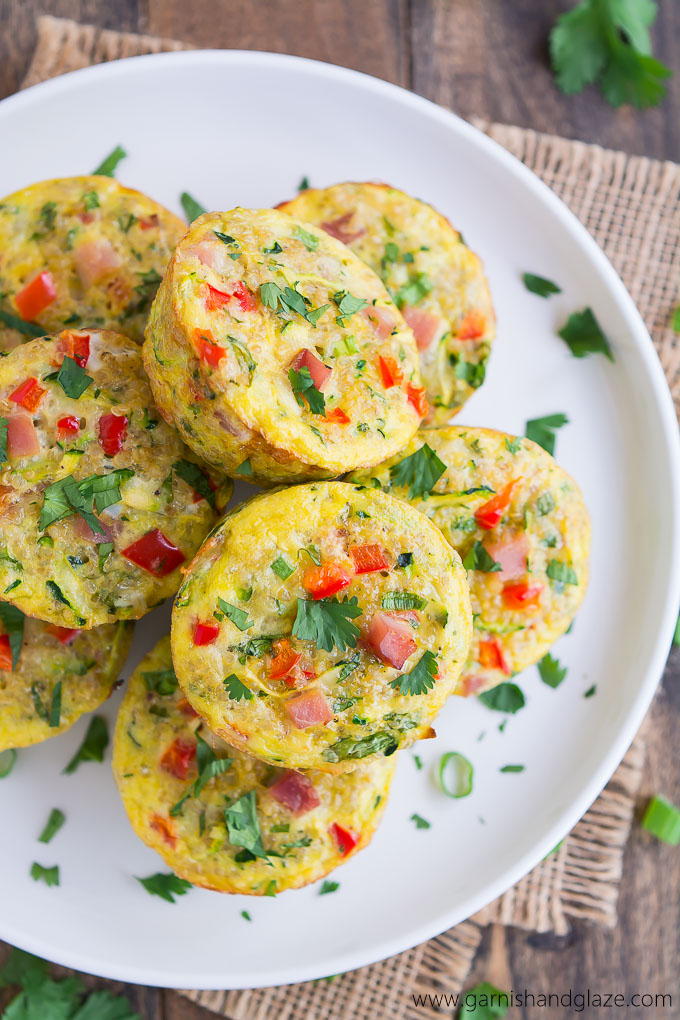 On the sixth day of Christmas, my true love gave me Six Geese a-Laying.
Geese lays eggs, but we much prefer eating your average chicken eggs 🙂
One of our favourite recipes to cook using eggs is Frittata! It is cheap, it is easy and it can feed a lot of people. You won't regret giving this recipe by Garnish and Glaze a try!
Day 7 – Garden Vegetable Quinoa Soup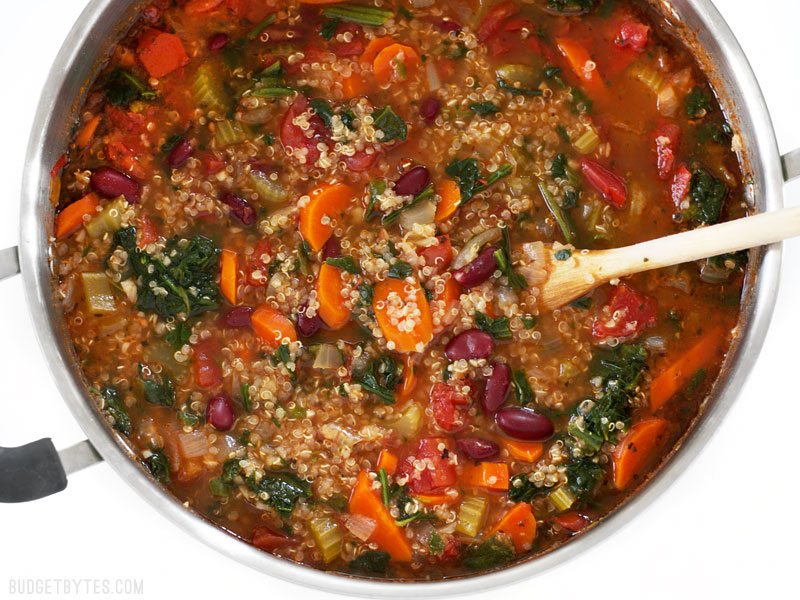 On the seventh day of Christmas, my true love gave me Seven Swans a Swimming.
Swans… Swimming… Water… SOUP?!?!
You get the idea. 😉
Traditionally in Peru, Quinoa is served as a simple vegetable soup. It is cheap and affordable for everyone in the villages, not to mention, VERY nutritious! This easy Quinoa vegetable soup recipe by Budget Bytes is hearty and comforting. Everything you're looking in a good pot of soup this monsoon season (if you're in Singapore and other parts of South East Asia) / winter season (if you're anywhere remotely cold!).
Day 8 – Creamy Goat Cheese & Bacon Quinoa Risotto
On the eight day of Christmas, my true love gave me Eight Maids a Milking.
One of the best things that has ever come out of milk is CHEESE!
Warm, gooey, stringy cheese is great in just about anything, including Quinoa.
Which is why we got very excited when we came across this deliciously cheesy recipe of Goat Cheese and Mushroom Quinoa Risotto by With Salt and Wit. Can you say, YUM?! 🙂
Day 9 – Easy Quinoa Stuffing with Butternut Squash & Pecans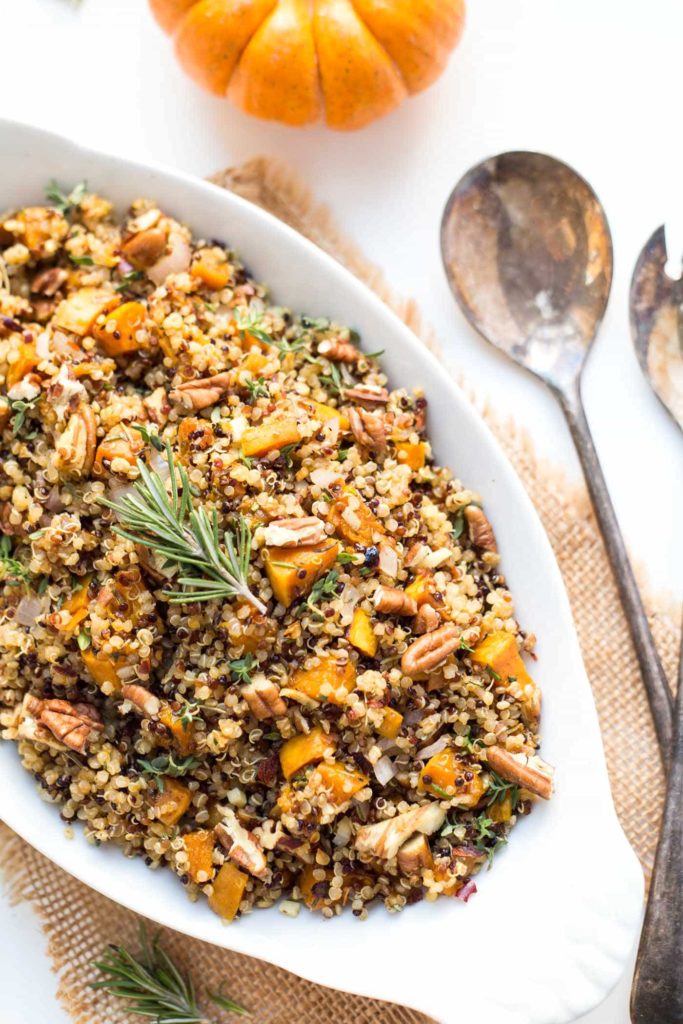 On the ninth day of Christmas, my true love gave me Nine Ladies Dancing.
If you want to stay light on your feet throughout the evening festivities and full of good energy, then you might want to skip the intense buttery, meaty and bready stuffing at this year's Christmas dinner. Opt for a lighter and healthier stuffing, like this one by Simply Quinoa, which is guaranteed to not give you food coma and will definitely not stop you from dancing the night away!
Day 10 – Seared Scallops with Quinoa & Apple Salad + Butternut Squash Purée
On the tenth day of Christmas, my true love gave me Ten Lords a Leaping.
We leap for joy when we're awarded with luxurious things… like fancy scallops on our plate for dinner 🙂 This recipe by A Thought for Food highlights everything we love in a meal. Balance, High Quality Ingredients, Quinoa, Creativity and Excellent Execution! We dare you to challenge yourself and make this meal for a loved one 😉
Day 11 – Smoked Salmon, Avocado & Quinoa Sushi Burrito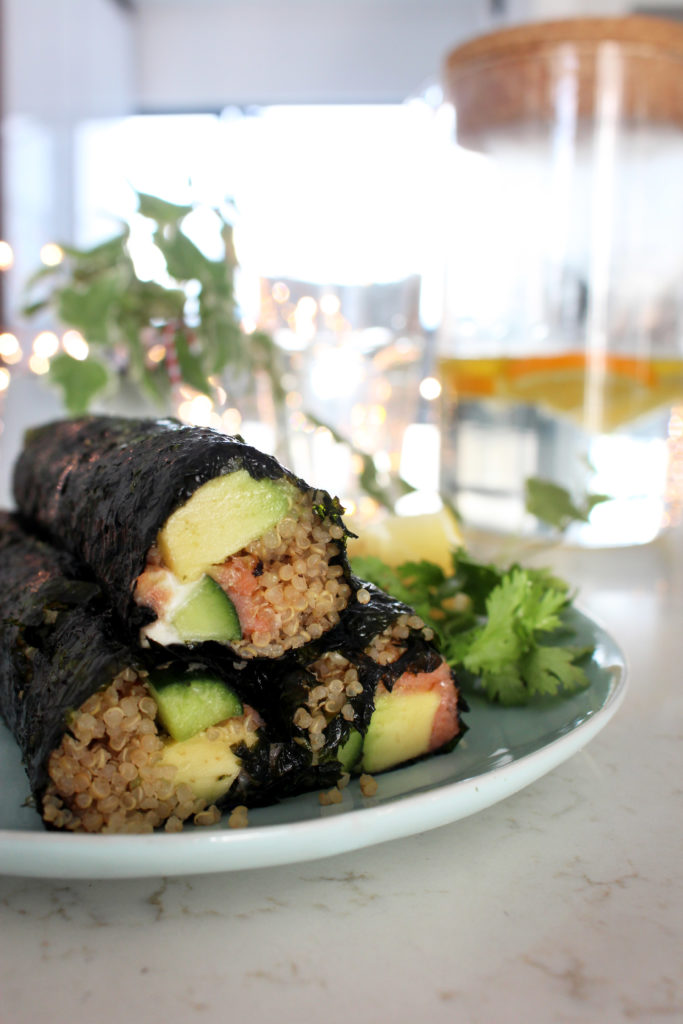 On the eleventh day of Christmas, my true love gave me Eleven Pipers Piping.
Our interpretation of pipers piping is something that is mainly shaped somewhat like a pipe… Sushi Burritos! Quinoa sushi is a great gluten-free rendition of a traditional sushi. This time around, instead of using traditionally raw salmon, we're using smoked salmon! Smoked Salmon is a food common to those who celebrate Christmas in Europe (especially France). Not only is it just as delicious, but you are also less susceptible to getting food poising when you use the smoked version of salmon!
We call that a win – win. 😉
Superlife Co. Original Recipe – Get the Recipe here.
Day 12 – Crispy Quinoa Crusted Chicken Fingers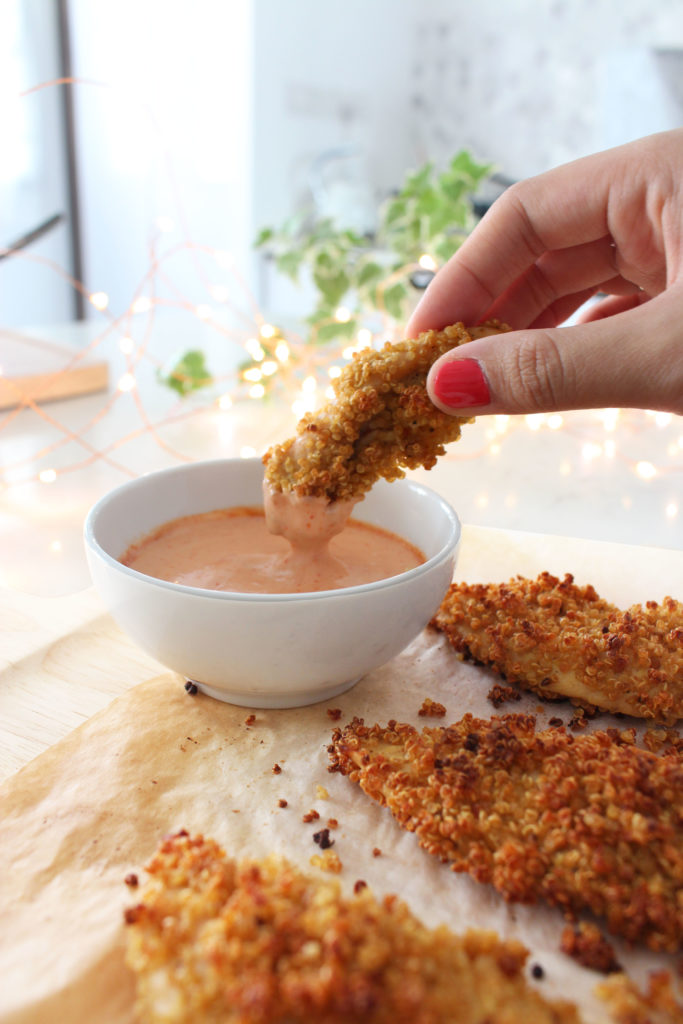 On the twelfth day of Christmas, my true love gave me Twelve Drummers Drumming.
These golden chicken finger beauties… they sort of resemble little drumsticks don't they? Perhaps not so much. BUT THEY SURE DO TASTE GREAT THOUGH 🙂 These gluten-free chicken fingers do not use any breadcrumbs or processed food. It's actually probably one of the easiest chicken fingers you'll ever make. You only need a few ingredients to make this one addictive, finger-lickin' snack!