Lead your Superlife: Healthy, Happy, Confident
Blog
Kpop X Fitness & Korean Feast Night
Hey Superfriends!
As many of you may already know, our Korean Kimchi Quinoa was out of stock for quite sometime…
BUT we are making a come back, stronger than ever, with this special Korean event 😉
Date: Friday, 9 February 2018
Time: 7pm to 11pm
Ticket: $28 – inclusive of KpopX class, dinner and a drink. Get ticket NOW.
Venue: Caffè Vergnano 1882
26 Beach Road, South Beach Avenue, #B1-17, 189768
An action-packed, Korean-inspired evening is in store to celebrate the relaunch of our Korean Kimchi Quinoa!
We're merging funky Kpop music, fitness and food all in one night.
We start at 7pm with a fun KpopX Fitness class conducted by professional dancer, Eleanor Fong, followed by a Korean Dinner at 8pm, featuring our special Korean Kimchi Quinoa.
The feast is served as a Make-Your-Own-Wrap Party:
> Take a piece of lettuce/seaweed
> Add on our delicious kimchi quinoa
> Add your favourite condiments and toppings
> EAT 🙂
Free flow 'til all of the food runs out.
The dinner is inclusive of one drink from Caffè Vergnano 1882 (coffee/tea/water). However, if you're extra thirsty and are in the mood for alcohol, you can simply top up for your alcohol of choice at the reception or bar!
It is a party after all… 😉
So come by, dance the night away and eat as much as your heart desires!
Get your ticket NOW.
What is KpopX?
KpopX is a unique dance fitness workout following the tunes of popular Kpop Music.
It is fun, it is dynamic, full of humour and drama!
For all fitness levels.
About Eleanor Fong:
Eleanor is a professional KpopX Fitness Instructor and Dancer.
She has danced for over 10 years, and have worked as a KpopX Fitness instructor for the past 3 years.
Her passion and love for dance is infectious, and you are guaranteed to have an amazing time in all of her classes!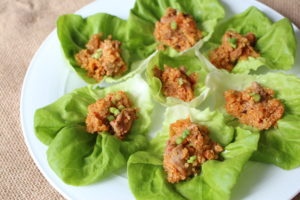 > The beautiful Kimchi Quinoa wraps for dinner!

Watch what a KPOP X Fitness Class looks like: