Lead your Superlife: Healthy, Happy, Confident
Blog
I Lost 3KG in 10 Days Without Exercise – Here's How I Did It
The truth: Most of us struggle with weight loss. When you get older, it is common for your body's metabolism to slow down. In order words, the rate that your body is burning the calories is slowly decreasing.
That's what happened to me.
After years of eating heavily processed, "bad" food, it's finally catching up to me. Until someone suggested that I should switch to a HFFP Diet – High in Fibre, Fats and Protein diet to lose weight. (You can read why it works here). So, I sought out to identify what "bad" food I eat in large quantities and find a healthier replacement of that.
It was narrowed down to 3 things:
1. White Rice
2. White Bread
3. Instant Noodles
To fit a
High Fibre, High Fat, High Protein diet (HFFP Diet)
, I changed it to:
1.
White Quinoa
2. Oatmeal
3.
1 Min Soup with Quinoa
Raised in an Asian family,
white rice
is the toughest to give up. However, many studies support that white rice is the cause of diabetes and heart diseases due to its high GI levels which made me take a second look at what I'm putting in my body.
So, I started this
10-Day Quinoa Challenge
for myself and below, I detail what I've gained and lost throughout this healthy eating journey.
Day #1: Mushroom & Tofu Quinoa
I am the worst cook, so thank god for recipe tutorials! I previously shopped for necessary, healthy ingredients to pair with quinoa.
Plus, I decided to bring a mini rice cooker to my office pantry so I can cook at my convenience. Began with an easy recipe – Mushroom and Tofu Quinoa. You can never go wrong with two ingredients!
I used Superlife Co. Chinese Mushroom pack and dumped everything provided from the pack into the rice cooker and added sesame oil for the fats to lower GI. In 15 minutes, my lunch was ready!
This recipe was extremely tasty and so easy to do.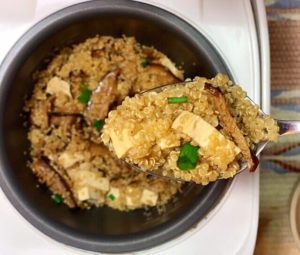 Day #2 (6 March 2019): Fried "Rice" Quinoa
After Day 1, I was pumped to try more quinoa recipes. The easiest is of course, fried rice style. All I did was dump in all my favourite veggies (Broccoli, Corn, Carrot etc.) and chicken breast into the rice cooker, added pink salt, some sesame oil and done!
                 
At this point, the smell in the office is always inviting curious colleagues to try. Many were pleased with the results and surprised how similar quinoa tastes to rice.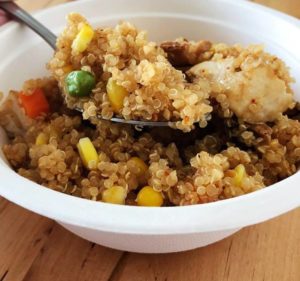 Day #3 (7 March 2019): Mediterranean Diet
After yesterday, most of my colleagues wanted to try quinoa. So, we threw a potluck party and I cooked quinoa for everyone.
My Turkish colleague made a homemade turmeric carrot and chickpeas with a side of tahini. Enough to say, it went so well with the quinoa base. Almost like a salad on it's own!
Everyone did compliment that they were surprised by the taste of the quinoa, because of its taste and texture. I think some were convinced to join me in the challenge too!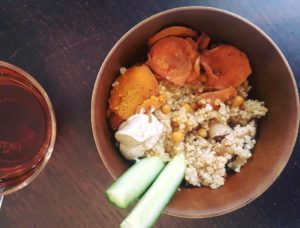 Day #4 (8 March 2019): Quinoa Bowl with Pesto & Veggies
Stepping into Day 4 and I'm still surprised that I don't miss eating white rice. My body wasn't craving for anything unhealthy. I just pretty much ate quinoa for lunch and dinner and it kept me full for a long time.
This time, I had lunch out of office so I went by Fasta at South Beach with my colleagues and enjoyed a quinoa bowl with pesto. Not bad! Thumbs up for the huge portions that I didn't manage to finish. I am beginning to feel that me eating quinoa is making me full faster and for longer periods.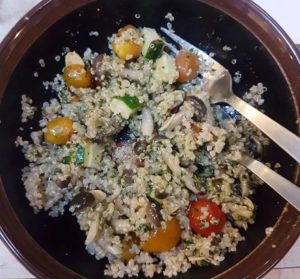 Day #5 (9 March 2019):  Thai Green Curry with Quinoa
Halfway done with this challenge and I saw a noticeable difference in myself. My bloatedness went down drastically. Some parts of my face cleared up (I had some stubborn acne scars) and I was overall, feeling really good about how I look.

Stepped onto a scale and yes, I lost 1kg! And considering, I didn't even do anything besides switching to quinoa. No time at the gym at all. This challenge seems pretty promising.
At night, my mum prepared her amazing prawns and broccoli stir fry which I knew would go so well with the Thai Green Curry Quinoa I just bought so I just cooked my quinoa base, and topped it with what my mum prepared!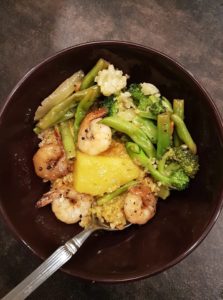 Day #6 (10 March 2019):  1 Min Quinoa Soup
It was raining heavily during lunch so I didn't want to go out of office. Normally, this is the point where I would reach out for Instant Noodles. But the guilt of eating junk food is real. Especially when I'm doing so well with my weight loss.
Thankfully, I bought 1 Minute Instant Quinoa Soup and kept it in my office pantry. So, I whipped out my Spinach Tofu flavor, pour hot water into my bowl and it became a soup!
Omg, the tofu was seriously amazing. This is actually perfect for vegans and vegetarians oh and lazy people like me too! Super convenient, tasty and no MSG? I am here for it!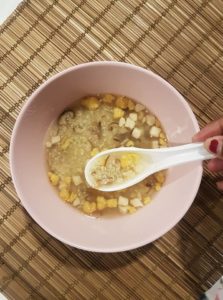 Day #7 (12 March 2019): Roasted Veggies Quinoa
It's already been a week of eating quinoa, and without rice! I am still going strong with this challenge. At home, I started the habit of meal-prepping to bring to office. This time, I up my cooking game by preparing Honey Roasted Rosemary Potatoes and Cajun Cauliflower. All that with quinoa as a base!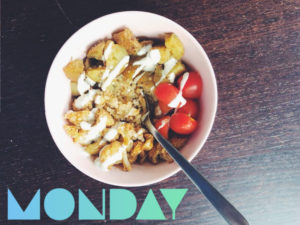 Day #8 (13 March 2019): DIY Quinoa Bowl
Went out for dinner but stayed true to my Quinoa challenge. I went by Kipos, a salad store with quinoa as an option. It's nice to see many restaurants are picking up quinoa as a base. Made this challenge a lot easier. This bowl had a generous amount of salmon and veggies. Oh and did I mention Guac! Omg, yes avocadooooo. Plus, it was reasonably priced too.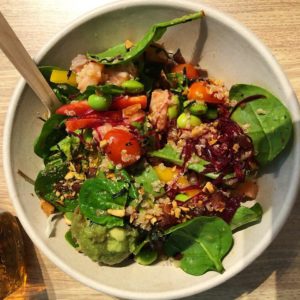 Day #9 (14 March 2019): Yong Tau Foo w/ Quinoa<
I love Yong Tau Foo! I usually have mine with bee hoon but instead of rice or noodles this time, I bought more ingredients and ate it with Mushroom quinoa cooked from office instead.
It's surprising how easy I can eat what I want and enjoy it healthily too. Most people have the misconception that quinoa doesn't go well with a lot of Asian dishes but it's actually not true! Try it with Yong Tau Foo people, your mind will be blown.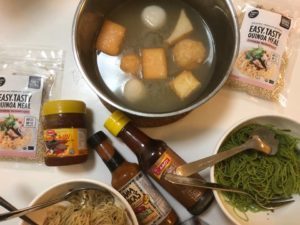 Day #10 (15 March 2019): Mexican Quinoa
And, today is the 10th day of the Quinoa Challenge! Time certainly flies. I celebrated with a Mexican Quinoa Salad! It truly was a fiesta ~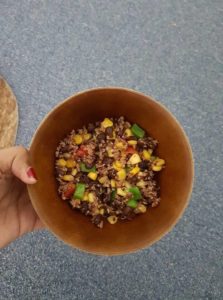 At the end of this challenge, here's what I learnt:
– I lost weight!
At the end of 10 days, I lost 3KG by simply substituting white rice to quinoa. This was a shock because I really didn't expect that drastic weight loss just by changing diet. Guess it's true – weight loss is 80% diet and 20% exercise. I believe that quinoa made me eat lesser because I found myself full for longer periods of time.


– My acne scars cleared up
This, I never knew possible! After I researched, I believe the antioxidants from quinoa is helping my scars disappear. My skin is slowly improving so I am motivated to keep eating quinoa to see the full effects.


– No craving for white rice at all
This is the most surprising thing. Initially, I was afraid that the change of rice to quinoa would be tough, especially because I am a die-hard white rice fan. Now, quinoa is part of my routine. I do find that quinoa texture is a bit crunchier than rice, but it goes well with all the dishes I've tried so far.
In fact, I am continuing my challenge and as of today (Day 23), I am still eating quinoa! You can follow all my recipes and journey in this Facebook Group.
So if you want to try this challenge for yourself, I highly recommend you to get a mixture of meal prep and instant quinoa meals! Cutting out the bad food really makes a lot of difference in my image. I am excited to see the effects of 30 days instead of just 10.