Lead your Superlife: Healthy, Happy, Confident
Blog
Pairing Superfoods with Wine
The best of all gifts around any Christmas tree:
the presence of a happy family all wrapped up in each other
– Burton Hillis
Sometimes, the best way to celebrate this festive season might be to just stay at home and enjoy a simple home-cooked meal together with the ones you love. Nothing matters more than the time spent with one another, don't you agree?
Hence, we'd like to share this little Christmas joy to you, our Superlife Co. family! Here are three of our favourite superfoods & wine pairing:
Peanut Butter & Banana with Chia Seeds Toast & Tawny Port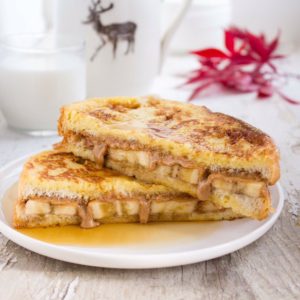 Ingredients
2 slices granary bread
1 small banana
1/2 tsp cinnamon
1 tbsp crunchy peanut butter
Toppings – chia seeds
Directions
Toast bread and slice banana
Layer banana on one slice of toast and dust with cinnamon
Spread the second slice with peanut butter, sandwich the two together and sprinkle some chia seeds on top
This nutty spread can be beautifully paired with the caramel, nutty notes of an aged 
Tawny Port.
Gingered-Shiitake Red Quinoa & Chardonnay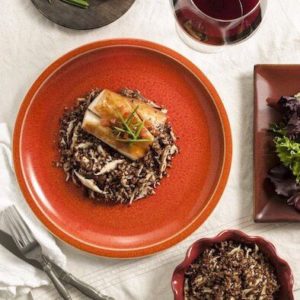 Ingredients (4 servings)
1 cup red quinoa
2 cups chicken stock, vegetable stock/ water
1 tsp salt
1 tbsp olive oil
1 tbsp chopped shallots
2 garlic cloves crushed
1 tsp chopped fresh ginger
1/2 cup sliced shiitake mushrooms
Directions
Place quinoa, stock/ water and salt in a small saucepan, and bring to a simmer. Place a lid on the saucepan, turn off the burner and let the quinoa steam for about 20 mins or until done
Heat the olive oil in a medium sauté pan
Sauté the shallots, garlic and ginger until soft. Add mushrooms and sauté until cooked through (about 3 mins)
Stir the quinoa, add salt and pepper to taste
The nutty crunch of the quinoa is best paired with an oaky 
Chardonnay
. If you prefer a less crunchy texture, you can choose to replace red quinoa with 
white quinoa
 as well!
Persian Rice Pie (added turmeric) & Chardonnay/ Sémillon
Ingredients (12 servings)
9 tbsp extra virgin olive oil, divided
1 tsp ground turmeric
2 3/4 tsp salt, divided
1 3/4 tsp ground pepper, divided
6 bone-in chicken thighs, skin removed
1/4 cup dried barberries or dried sour cherries
5 1/3 cups and 1 tbsp water, divided
1 large yellow onion, dropped
3 cloves garlic, minced
1 tsp ground cinnamon
2 1/2 cups brown basmati rice
1 tsp ground saffron
3 large eggs
3 cups whole-milk plain greek yogurt
2 tsp lemon zest
2 tsp lemon juice
2 tsp melted butter
Directions
Preheat oven to 400°F.
Combine 2 tbsp oil and turmeric in a large bowl with 1 tsp each salt and pepper. Add chicken and turn to coat. Transfer the chicken to a rimmed baking sheet. Bake, turning once, until an instant-read thermometer inserted in the thickest part without touching bone registers 160°F, 25 to 30 minutes total. Transfer the chicken to a clean cutting board and let cool for 5 minutes. Reserve the pan. Remove the meat from the bones and cut into 1-inch pieces.
Meanwhile, soak barberries (or cherries) in ⅓ cup hot water for 30 minutes.
Heat 3 tbsp oil in a large cast-iron skillet over medium heat. Add onion and cook, stirring occasionally, until lightly browned, 10 to 12 minutes. Add garlic and cinnamon; cook, stirring, for 1 minute. Transfer to a medium bowl. Wipe out the pan.
Bring 5 cups water to a boil in a medium saucepan over high heat. Add rice and 1 tsp salt. Cook 5 minutes; drain and set aside.
Combine the remaining 1 tbsp water and saffron in a large bowl. Let stand for 5 minutes. Whisk in eggs, yogurt, lemon zest, lemon juice and the remaining ¾ tsp each salt and pepper.
Add 1½ cups of the yogurt mixture to the onion. Drain the barberries (or cherries) and add to the onion mixture. Stir in the chicken. Spread the reserved rice on the baking sheet, scraping up any browned bits left from the chicken, then stir it into the remaining yogurt mixture in the large bowl. Let the chicken and rice mixtures marinate at room temperature for 1 hour.
Preheat oven to 375°F.
Heat the remaining 4 tbsp oil in the skillet over medium-low heat. Spread half of the rice mixture over the bottom and up the sides of the pan. Spread the chicken mixture over the rice, leaving a 1-inch border around the edge. Top with the remaining rice mixture, smoothing the top with a spatula. Pour butter over the top. Being careful of the hot pan, cover tightly with foil. Cook for 5 minutes.
Transfer the pan to the oven. Bake for 1¼ hours.
Let the pie cool in the pan for 15 minutes. Remove the foil and run a knife around the edge to loosen the pie. Place a flat serving platter on top of the pan and carefully invert to release the pie from the pan.
This delectable, crispy delight is best paired with 
Chardonnay or Sémillon
Merry Christmas Superfriends! May you have a blessed one with your family and friends.
❤