Lead your Superlife: Healthy, Happy, Confident
Anti-Aging Facial Products
Uncategorized
Anti-Aging Facial Products
All our anti aging products are carefully curated and tested to be highly effective in anti aging. Rossceutics is a German brand that is researched and developed by a group of German scientists. Their products contain their patented technology of anti-wrinkles active substance known as easyliance. The main ingredients are 100% natural plant based and the main functions of the products are anti-wrinkles, renewal of cells and tightening of skin. Taifu, is a Singapore brand that uses cutting edge nanotechnology for anti aging and better absorption. The main functions of taifu are anti aging, firming and tightening. They are suitable for use for ladies above 30 year old.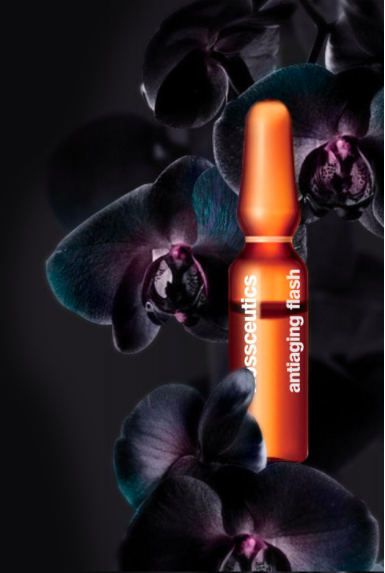 Rossceutics Black Orchid Ultimate Firming Serum is developed by a team of German experts. It uses the extremely precious Black Orchid extract that is only 2-3 weeks old in the Peruvian Andes. The black Orchid is unusually rare due to only three weeks of flowering per year. Growing in high-altitude areas makes it so gifted that it can change according to the surrounding environment. Whenever it encounters survival dangers, it can extend its own life cycle, grow in adversity, and cleverly extend its lifespan, so black orchid has its extraordinary Vitality becomes the guardian of youth.
This extract has strong vitality, vitality and repair ability. It can select the skin's own immune ability in a short time, so that it can solve the problem of skin aging.
WHY BLACK ORCHID
It only exists in Peru and grows on the steep mountain peaks with an altitude of 500-1000 meters. Why is black orchid able to stand on her own in such an environment? After research, it is found that the secret of black orchid's tenacious vitality is that it can adjust its metabolism according to the external environment. Because its pH value is 4.5, weak acidity, instant brightening and whitening are close to the natural effect, and there is no stimulation of fruit acid, its cost performance is higher.
At present, up to 5% of other products on the market act on acquired immunity, and the unique patented cell component of black orchid (exclusive patented component BlackICE Technology) acts on both innate and acquired immunity, and the effect is as high as 95% of skin immune cells.
When skin immunity is improved, each cell is protected from outside to inside, forming self ecological regeneration ability. Rossceutics black and blue essence can absorb quickly and moisten the skin. It is light and thin beyond imagination. Its penetration power is almost in one second. Clinical experiments have proved that only eight weeks, wrinkles can fade 42%, truly frozen age muscle, let age become your secret from now on!
Active Ingredients
- Black Orchid
- Easyliance
- Biopolymer (natural product produced by microorganisms living in the roots of plants through symbiosis)
- Gum Arabic (osmotic fluid obtained by cutting the bark of African trees)
Functions:
- Instant firmer 
- Tighten Skin
- Smoothen Skin
- Anti Wrinkles
- Renew Cells
- Shape Face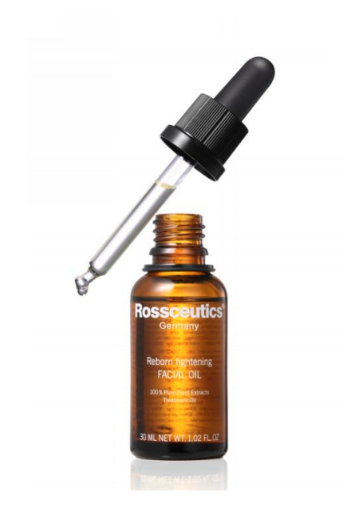 This natural firming oil has anti-inflammatory, anti-wrinkle, anti-oxidant firming and maintaining skin elasticity. The caprylic acid/capric acid glyceride in orchid extract and the lignan in magnolol are good antioxidants and free radical scavengers, and have strong anti-aging effects.
The combination of 5% squalane and rosehip oil provides a perfect repair blend that protects and nourishes our skin. It can effectively reduce wrinkles, tighten skin and strengthen moisturizing. It is a reliable way to solve skin problems.
Royal Orchid, Main Ingredients of Rossceutics Facial Oil
AKOACTIVE®GARUDA from the divine power of Royal Orchid. Inspired by the most beautiful flowers created by God, orchids and their incredible resistance, the Akott R&D team in Italy created this revolutionary ingredient AKOACTIVE GARUDA.
It is an ingredient that prevents the skin from losing strength and resistance in advance, strengthening and protecting the skin..AKOACTIVE®GARUDA is rich in the multifunctional synergy of orchid extract and magnolol (lignin naturally present in magnolia bark).The lignans in the Magnolol in the orchid extract are good antioxidants and free radical scavengers.Lignan can help slow down hormonal aging.
Hormonal aging is closely related to collagen production, loss of elasticity and dry skin.Magnolol can protect different parts of skin cells from oxidative stress in terms of cytoplasm, cell membrane and mitochondrial membrane, reducing power, superoxide anion and hydroxyl radical scavenging.Experiments show that the recommended amount of this patented ingredient is 1%-5%
Natural Ingredients
• Royal Orchid
• Squalane
• Rosehip Oil
Functions
• Antioxidants
• Anti-inflammatory
• Anti-wrinkle
• Firm
• Improve skin firmness and density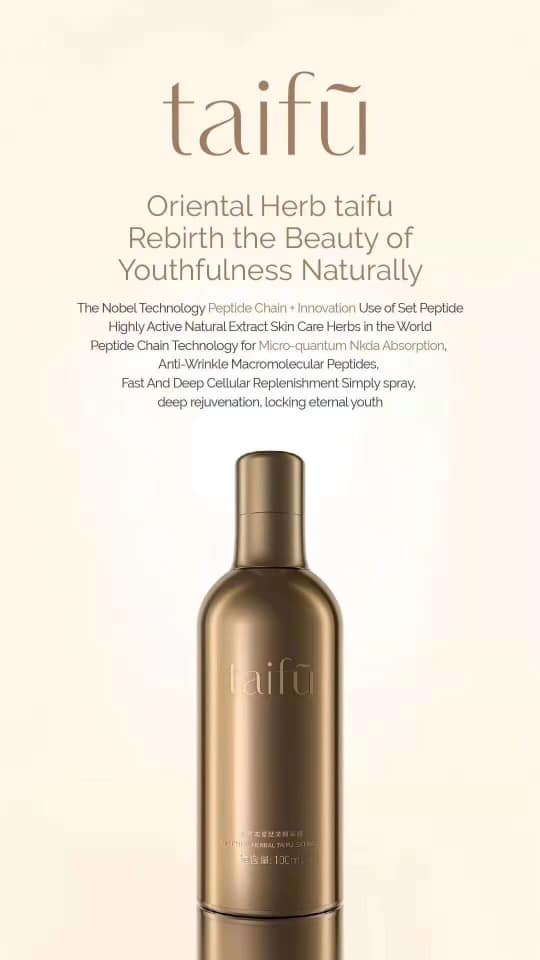 Taifu Spray – helping you to have a younger skin and a V shape face
The spray uses highly active natural herbs essence for skin rejuvenation. It gives you lifting effect that leads to V shape face, reduces puffiness and wrinkles using collagen and your own cells to recreate collagen loss as we aged. It lighten scars and cures acne. It is made from 100% natural herbs with nanotechnology.
How does the spray helps you achieve younger skin and lifting effect for V shape face?
1) Nobel Award Winning Peptide Chain + Multi Peptides: Highly energised to revitalize skin cell (collagen recreation)
2) Five intertwined Elements of Herbal Technology: Integrated natural ecology
3) Micro-quantum NkDa Extraction: Multidimensional absorption
It is proven effective and it has Botanical Extracts Solution which replaces 5 Skincare Products with Just 1 Bottle: Toner | Eye cream | Serum | Day Cream | Night Cream
Overall, it makes you prettier with younger skin and at the same time saves you money and time!
100% natural herbs ingredients
- Centella Asiatica Extract
- Polygonum Cuspidatum Extract
- Scutellaria Baicalensis Root Extract
- Rosemary Extract
- Chamomilla Recutita Extract
- Glycyrrhiza Glabra Extract
- Tea Extract
- Actinidia Chinensis Oil
- Hydrogenated Avocado Oil
-Hydrogenated Wheat Germ Oil