Lead your Superlife: Healthy, Happy, Confident
Blog
Easy, Quinoa Balls Recipe You Can Make As Snacks!
One of our Superfriends, shared a brilliant food idea in our Facebook Group (P.S We love sharing recipes here, so feel free to join us!). Thanks to her, we found 3 amazing, easy quinoa balls recipes that are delicious for all ages that we encourage you to try as well! Trust me, it's great for kids and adults alike 🙂
Recipe #1: Cheesy Broccoli Quinoa Balls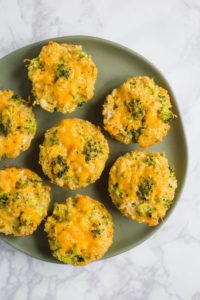 Ingredients:
• 1 ½ cups of 
broth
• ¾ cup of 
quinoa
• 2 cups of broccoli, finely diced • 1 cup of cheddar cheese, plus extra for topping if desired • 1 cup of onion, diced • 2 cloves of garlic, minced • ½ teaspoon of oregano • 1 teaspoon of salt • ½ teaspoon of pepper • 2 eggs
Directions:
1. Pre-heat the oven to 350 degrees F / 180 degrees C. Generously grease a muffin tin with cooking spray. 2. Bring the broth to a boil in a medium saucepan. Add in the quinoa, lower to a simmer and cook, covered, until all of the liquid has been absorbed. Stir every few minutes. Once done, take off of heat and let sit, covered, for 10 minutes. Fluff with a fork and then place in a large bowl to cool. 3. Once the quinoa is cool enough to handle, add in the broccoli, cheddar, onion, garlic, oregano, salt, pepper, and eggs. Mix until full combined. 4. Divide the quinoa mixture evenly among the 12 muffin tin cavities. Top with extra cheese if desired. 5. Bake in the oven for 20 minutes. Let cool slightly and ENJOY! Recipe courtesy of 
FoodWithFeeling 
~
Recipe #2: Asian Quinoa Meatballs
Ingredients:
• 1 pound (or 0.5kg) ground turkey / chicken / pork (meat of your choice) • 3/4 cup cooked 
quinoa
• 3 cloves garlic, minced • 2 green onions, thinly sliced • 1 large egg • 1 tablespoon soy sauce • 2 teaspoons sesame oil • 1 teaspoon 
Sriracha
, or more, to taste • Kosher salt and freshly ground black pepper, to taste • 1/2 teaspoon sesame seeds
Sauce:
• 1/4 cup soy sauce • 2 tablespoons 
rice vinegar
• 1 tablespoon freshly grated ginger • 1 tablespoon brown sugar, packed • 1 teaspoon sesame oil • 1 teaspoon Sriracha, or more, to taste • 2 teaspoons cornstarch
Directions:
1. Preheat oven to 400 degrees F / 204 degrees C . Lightly oil a 9×13 baking dish or coat with nonstick spray. 2. In a large bowl, combine ground turkey, quinoa, garlic, onions, egg, soy sauce, sesame oil, Sriracha, salt and pepper, to taste. Using a wooden spoon or clean hands, stir until well combined. Roll the mixture into 1 1/4-to-1 1/2-inch meatballs, forming about 18-20 meatballs. 3. Place meatballs onto the prepared baking dish and bake for 18-20 minutes, or until all sides are browned and meatballs are cooked through. 4. To make the sauce, whisk together soy sauce, rice vinegar, ginger, sugar, sesame oil, Sriracha and 1/2 cup water in a small saucepan over medium high heat. 5. In a small bowl, whisk together cornstarch and 1 tablespoon water. Stir into soy sauce mixture until thickened, about 2 minutes. 6. Serve meatballs immediately with sauce, garnished with green onion and sesame seeds. Thanks 
DamnDelicious
 for this amazing recipe!
Recipe #3: Baked Zucchini, Feta and Quinoa Bites
Ingredients:
• 1 cup cooked 
quinoa
• 2 medium zucchini • 3 tbsp whole wheat / plain flour • 1/2 brown onion finely chopped • 3 cloves garlic crushed • 2 spring onions white and light green parts only, finely chopped • Zest from 1/2 a lemon • 2/3 cup crumbled feta • 1 large egg • Salt and pepper to taste
Directions:
1. Preheat oven to 400 degrees F / 204 degrees C. Line a baking sheet with parchment paper and set aside 2. Using the grating attachment on your food processor or the large holes of a box grater, grate the zucchini. Pop it into a sieve and set over a large bowl or in the sink. Sprinkle it with a pinch of salt and let it sit for about 10 minutes to release some of its water 3. After 10 mins place the zucchini in a nut milk bag or clean dishtowel, and squeeze well to remove as much water as you can. Once you think you have squeezed it all out, squeeze some more – it needs to be really dry 4. Place the dried zucchini in a mixing bowl. Add in the flour, chopped onion, garlic, spring onions, lemon zest, crumbled feta, egg, salt and pepper and mix well 5. Wet your hands (to prevent sticking) and form little balls/poppers using a heaped teaspoon of mixture at a time. You should be able to get about 25 6. Bake the poppers for 15 mins, flip over and bake for another 15 mins until golden and crispy 7. Remove from the oven and let cool on the baking sheet for 3-5 minutes before serving Recipe thanks to 
WholeFoodBellies
 🙂