Lead your Superlife: Healthy, Happy, Confident
Blog
A Spicy Hot Chinese New Year!
Hey Superfriends!
It's the time of the year again to gather around a pot of bubbling broth and various steamboat ingredients! The significance of reunion dinner is for families and friends to bond and share happiness. Be it chitchatting, playing board games, or even immersing yourselves in some song and dance. There will always be moments for everyone to enjoy!
We, the Superlife Co. team, have decided to celebrate this Chinese New Year in a very special way. Presenting to you, a scrumptious steamboat feast with our favorite White Quinoa and the Hai Di Lao Mala soup base!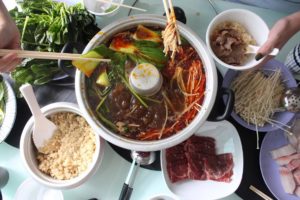 It really does taste as amazing as it looks! The mala soup base was flavourful, while the quinoa was perfectly fluffed up! People don't normally eat rice during steamboats as it tends to make them feel full really quickly. This causes them to not be able to finish the rest of their meal (for example, the good cuts of meat and vegetables). However, can you believe that the four of us actually finished one big pot of Quinoa? Yummmm~
Sharing is caring. We want all of you to have a wonderful steamboat feast filled with goodness!
Shop white quinoa here to check it out NOW! 😀
Happy Chinese New Year in advance Superfriends!