Lead your Superlife: Healthy, Happy, Confident
Blog
Spicy Thai Tofu Quinoa Wraps (Easy Recipe)
Hey Superfriends!
Here is an exotic recipe inspired by delicious Vietnamese and Thai Cuisine: Spicy Thai Tofu Quinoa Wraps.
Serves: 4-5
Cooking Time: 40 minutes

Ingredients
1 pack of Superlife Co. Thai Green Curry Quinoa
1 container Tau Kwa/Firm Tofu (400g), drained and patted dry
1 Pack of Rice paper
1 carrot, julienned
1 cucumber, julienned
Handful of cilantro, washed and chopped
Handful of basil, washed and chopped
1 small lime
1 tbsp coconut oil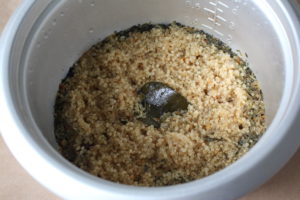 Directions
1. Preheat your oven to 200 degrees celcius.
2. Cut the tau kwa into small cubes and place them on an oven tray lined with baking paper. Bake the tofu for about 20 minutes, or until gold brown.
3. Cook the Thai Green Curry Quinoa in a rice cooker according to the instructions on the pack, and add coconut oil in the rice cooker as well.
4. Once both the Quinoa and Tau Kwa are ready, add both into a big bowl with a squeeze of a lime and mix together well.
5. Wet the rice paper in a bowl of warm water, then place it on a plate. On the damp rice paper, add a tablespoon of the Tofu Quinoa mix, a few pieces of carrot, cucumber, and herbs, then wrap up the roll (just like wrapping a burrito).
6. Eat and enjoy straight away!
Shop our Thai Green Curry Quinoa, click here.