Lead your Superlife: Healthy, Happy, Confident
Anti-ageing
What are Chia Seeds?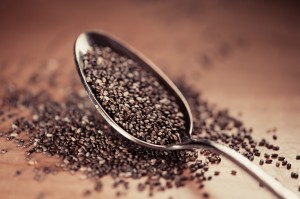 Chia Seeds (Salvia hispanica) is a form of superfoods. It is a type of flowering plant in the mint family. The Chia plant is found in genera Salvia and Hyptis of the family Labiatae.
Our chia seeds are 100% natural and organic grown and harvested from the high Andes Mountain. Our premium grade black Chia Seeds has 30% higher water absorption rate than most chia seeds that are retailing. Chia seeds contain 8 times more omega 3 than salmon and 3 times more antioxidant than blueberries when soaked. Chia seeds has to be soaked in water before consumption, it is almost tasteless which makes it extremely versatile and can be easily added into drinks and food.
The different species of Chia are found in cultivation for centuries in Mexico (Weber et al, 1991).
How does it come about?
Chia Seed is a herb that grows up to 1.75 meters. Its flowers are purple or white. Chia Seeds itself is generally small and oval in shape with a diameter of approximately 0.8mm to 1.2mm. They can come in brown, black and white colours and they produced a gel like coat when soaked in water. Chia is reported to soak up to 12 times their weight when put in water. Chia is traditionally produced and consumed in Mexico but is popular among health conscious people in today's world.
Most people put Chia Seeds into water, juices, tea, coffee or sprinkle on salad. Adding Chia Seeds into pastries and cakes are also slowly gaining popularity.
Check out our next post on benefits of chia seeds.