Lead your Superlife: Healthy, Happy, Confident
Blog
Wrapping up your Superlife Co. Quinoa Christmas Gift Sets!
Hey Superfriends!
I'm sure you've heard by now that we have Limited Edition Quinoa Christmas Gift Sets for this Holiday Season.
BUT, did you know that we also wrap the gift sets up for you?
Here is what the gift sets look like when it arrives at your doorstep…
1. Stocking Stuffer, $10 – buy online.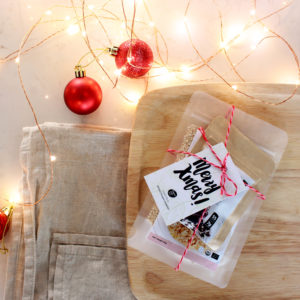 It comes with a pack of Chinese Mushroom Quinoa and 4pm Quinoa Cacao Bloc, all wrapped up with a cute ribbon and our "Merry Christmas" card.
2. Quinoa Lovin', $20 – buy online.
This set comes with 4 Quinoa Packs (Enoki, Mushroom, Spicy Curry and Japanese Quinoa), all wrapped up in a kraft paper bag and a "Merry Christmas" card. Ready to be given away as a present!
3. Santa's Treat, $30 – buy online.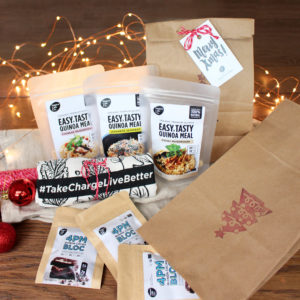 Santa's treat is filled with a mix of Asian Quinoa Packs, our Limited Edition Matcha and Popped Quinoa Chocolate (if bought at our events, e.g. Raffles Exchange POP UP Booth), and our tote bag… All wrapped up in our kraft paper gift bags, tied up with a ribbon and topped off with a cute "Merry Christmas" card.
All you have to do is pass the presents to your loved ones! 😉
We'll also be selling the Gift Sets at our upcoming Raffles Exchange POP UP Booth! So if you're interested but want to see what it looks like in person, come by our POP UP next week.
NOTE: We'll be changing the 3 4pm Quinoa Cacao Blocs in your Santa's Treat Gift Set to our LIMITED EDITION Matcha Chocolate Bar when you purchase the set at our POP UP! (*Subject to availability… First come first serve!)